Breast Gain Plus Breast Enlargement Pills Reviews

Breast Gain Plus is another of the heavily-marketed breast enlargement pills found online and in your email inbox. The manufacturers of Breast Gain Plus also peddle a wide variety of herbal products and promote their products through a very active affiliate program.
Breast Gain Plus capsules come in a bottle of 60 total capsules, a 30-day supply.
Breast Gain Plus: effective ingredients
Breast Gain Plus does not contain many of the active ingredients common to all breast enlargement pills. Instead, fenugreek, Vitamin E, blessed thistle and dandelion are found in the formula. Fenugreek is thought to be phytochemically similar to progesterone but is not thought to be as effective as wild yam.
In addition, Breast Gain Plus contains a number of inactive ingredients including stearic acid and a number of other additives used to ease the manufacturing process.
The manufacturers of Breast Gain Plus claim that there product has benefits far beyond breast enlargement, including relieving the following symptoms: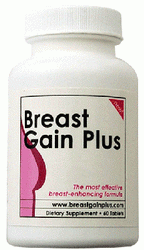 Night sweats
Mood swings
Vaginal dryness
Sagging breast
Sexual disinterest
Weight gain
Memory and concentration problems
Depression
Hot flashes
Osteoporosis
Fibrocystic lumps
Painful intercourse
Insomnia
Heart Palpitations
Fatigue
Hair Changes
Heavy Bleeding
If any herbal supplement was really able to do all that, we're pretty sure it wouldn't be called Breast Gain Plus. Maybe Miracle In A Bottle Pills, or Magic Pills.
How to use Breast Gain Plus
Two Breast Gain Plus capsules are to be taken in the morning. Caffeine and carbonated beverages are to be avoided while on this regimen.
Breast Gain Plus results: our evaluation
Frankly, we didn't expect much from Breast Gain Plus, considering that it promised to cure our depression, help us lose weight all while improving our breasts. Nonetheless, our testers did experience some results in improvement in their breast size and shape.
If you couldn't find our top one or two products, Breast Gain Plus might make an adequate supplement. Beware, though, of ordering the 1-month trial supply! You are automatically and without your authorization signed up for their auto-ship program, which can be a real hassle to get cancelled.
How does Breast Gain Plus compare?
We've reviewed the top 20 breast enlargement products. See our research summarized here or learn more about our Editor's Choice for best breast enhancement system.